Saturday, April 08, 2017, 07:00pm

APRIL 8:  BRAZIL:  DANILO BRITO QUINTET featuring the choro music
Great Hall. St. John's College 60 College Avenue. Annapolis MD. 7:00 PM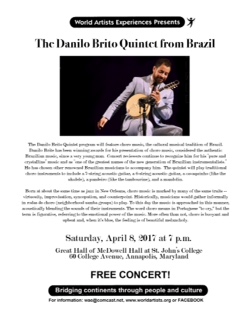 Brazilian Musicians to Perform April 8
The Danilo Brito Quintent from Brazil will give a free performance at 7 p.m., April 8 in the Great Hall of McDowell Hall at St. John's College, 60 College Ave., in Annapolis.   The program will feature choro music, the cultural musical tradition of Brazil.   
A musician who began playing the mandolin at the age of three, Mr. Brito has been winning awards for his presentation of choro music, considered the authentic Brazilian music, since a very young man.  Concert reviewers continue to recognize him for his "pure and crystalline" music and as "one of the greatest names of the new generation of Brazilian instrumentalists."
He has chosen other renowned Brazilian musicians to accompany him.  The quintet will play traditional charo instruments to include a 7-string acoustic guitar, a 6-string acoustic guitar, a cavaquinho (like the ukulele), a pandeiro (like tambourine), and a mandolin.
The concert is free of charge.  It is presented by World Artists Experiences in cooperation with St. John's College.  World Artists Experiences is a non-profit organization which bridges international understanding through citizen and cultural diplomacy.  For additional information email This email address is being protected from spambots. You need JavaScript enabled to view it..
Contacts:
Beth Penn
Media Relations, World Artists Experiences
410-544-1742
This email address is being protected from spambots. You need JavaScript enabled to view it.
or
Betty McGinnis
President, World Artists Experiences