Friday, February 09, 2018, 07:00pm
This repeat is an exception to the normal repeat pattern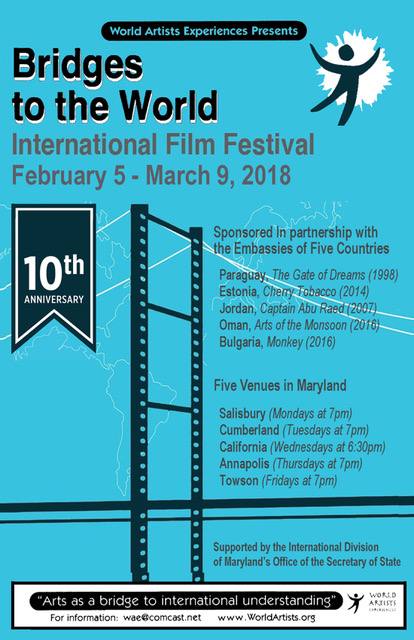 Weekly showing of films featuring a film from a foreign country each week. "The Gate of Dreams" (El Porton de Los Suenos) (1998) from Paraguay will be shown February 9th.
A biography of Augusto Roa Bastos (1917-2005), a Paraguayan novelist. Roa Bastos' life and writing were marked by experiences with dictatorial military regimes. In 1947 he went into exile in Argentina, and later France. Roa Bastos' fiercely tackled Paraguayan social and historical issues. He incorporated Paraguayan myths and symbols into a Baroque style known as magical realism. In Spanish with English subtitles
The films were selected and provided by the respective embassies to represent their country's spirit and art of filmmaking. Each film will be introduced and followed by a discussion.
Admission is free - movies are sponsored by World Artists Experiences and the International Division of Maryland's Office of the Secretary of State.
Location
Towson, MD, Van Bokkelen Hall Auditorium, Towson University, 8000 York Road